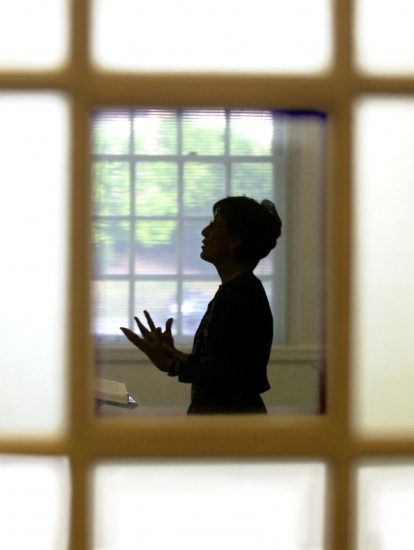 They are 15 women and five men, ranging in age from 25 to 61. They include a one-time businessman and a former schoolteacher, and represent a cross-section of Protestant denominations, from Baptist to Presbyterian to Moravian.
They are the first graduating class in the School of Divinity at Wake Forest University.
Few in this group receiving their diplomas on Monday are headed for a traditional pulpit. They speak more of social justice than of sin and salvation.
All came to Wake Forest conscious that they were part of an experiment: the creation of an ecumenical divinity school that would, among other things, serve as a counterweight to the conservative domination of the Southern Baptist Convention and its seminaries.
The school is still a work in progress. Students and faculty have strugged to find a balance between honoring Wake Forest's own Baptist roots and promoting religious pluralism and academic freedom.
"It's not without its faults – because whenever you bring all those different voices together, there's tension and disagreement," said Stan Cross, one of the graduating students.
"It's like the Bible. Out of the tension and argument and disagreement comes life," he said.
Because they were the school's first students, this group actively participated in helping to refine the school's mission and identity, Cross said.
"We all felt part of that pioneering experience," he said. "That awareness adds a sense of responsibility and a real desire to make things work and do our best."
A call for moderate voices
Talk of starting the divinity school first surfaced in the late 1980s, a few years after the conservative takeover of the Southern Baptist Convention. Many moderates had left or been forced out of posts at Baptist seminaries because they refused to teach biblical inerrancy, the defining conservative tenet.
The Rev. Mike Queen, the pastor of First Baptist Church in Wilmington and a Wake Forest trustee, was among those who approached the university's president, Thomas K. Hearn, with the idea of starting a divinity school.
They argued that Wake Forest -whose Baptist founders in 1838 envisioned it as a producer of ministers -needed to join other Baptist schools that were re-embracing theological education. Over the years, that training had moved to denomination-run seminaries.
Baptist universities, meanwhile, had grown increasingly independent of the denomination: Wake Forest severed its last ties to the Baptist State Convention of North Carolina in 1986.
But the university made slow progress in creating the divinity school, and some early backers withdrew financial support, Queen said. He nonetheless defends Wake Forest's approach.
"The university is dealing with so many different constituencies about money, space … we had to make sure that this was going to fit in with everything else," he said.
The school opened its doors in 1999 with 24 students. Moderates and liberals hailed a new era; conservatives questioned whether the school would ever meet a critical challenge: turning out a significant number of graduates who actually wanted to preach.
Today, the ideological divide remains deep. The Rev. Jerry Pereira, the conservative president of the Baptist State Convention, declined to comment about the school, saying that he doesn't know much about it.
But Willie Jennings, the academic dean at the Duke University Divinity School, said that other schools are watching and hoping for Wake Forest's success.
"Everyone … understands that Wake Forest's seminary is significant and has promise to be a major voice in theological education," he said.
"We really want them to do well. We're convinced that the formation of the clergy for the church needs to be done in the context of the university."
The first year
It wasn't always easy.
Early on, the divinity school got caught up in the maelstrom surrounding the use of Wait Chapel on campus for a same-sex commitment ceremony. Susan Parker and Wendy Scott, the two women who requested the ceremony, are members of Wake Forest Baptist Church, which holds services in the chapel.
Parker is also a member of the inaugural divinity-school class.
The university allowed the ceremony in September 2000 – but not before a very tense hesitation as officials tried to reconcile the differences between conservative alumni and more liberal faculty and students.
Divinity school dean Bill Leonard would later describe the controversy as a "tar baby."
"It just fell on me," he recalled in a 2000 story published in the Biblical Recorder, the newspaper of the Baptist State Convention. "I didn't go looking for it."
The controversy erupted at the very time that the students and faculty were trying to figure out what it meant to be starting a divinity school at Wake Forest.
Parker's classmates supported her but were angry that all the attention of the outside world focused on the union ceremony, said Stephanie Wyatt, a graduating student.
"We didn't want this union to define us," Wyatt said. "When we talk about the first year, we don't talk about the union ceremony. We talk about the anxiety – of saying who are we as a community, as a school, going to be and what does it mean?"
Making a minister
Many members of the divinity-school class remember what Professor Frank Tupper said to them on the first day of theology class in 1999.
"Divinity school is like taking your heart out, holding it in your hand and examining it while still depending on it to give you life," Wyatt recalled.
Tupper's words resonated with the group over time as they realized that their education depended on their ability to take their faith apart without killing it or losing it.
For Wyatt, who has deep roots in the Southern Baptist church, that meant asking some very hard questions about what it meant to be a woman, a Baptist, an academic and a person passionate about social change.
"There was a sense of the tug and pull in terms of the voices at the school that mirrored what was going on in me," Wyatt said.
"Divinity school helped me find ways for all these parts of myself to talk to each other," Wyatt said.
Today, Wyatt's home congregation in Knoxville, Tenn., which has ties to both the Southern Baptist Convention and the moderate Cooperative Fellowship of Baptists, is voting on whether to ordain her.
If the congregation does, as expected, Wyatt will be the first woman to be ordained by the congregation. She plans to work for the Baptist Joint Committee in Washington, a nonprofit organization that deals with issues of religious liberty and the separation of church and state, and eventually return to graduate school for a doctorate in biblical studies.
For Cross, the divinity school curriculum, which includes instruction in biblical studies, church history, theology, homiletics (the art of preaching), spirituality and
pastoral care, transformed him from a self-described "moderate to conservative Baptist" to "one of the more radical students," he said.
He almost didn't come to the school when he found out that it had an open- admissions policy and that Parker, his classmate, was a lesbian.
Now she is one of his best friends.
"My whole attitude about homosexuality is changed because of her," he said.
"That's one of the ways in which I'm transformed," he said. "I want to help the church step out of the boxed situation it seems to be in."
Cross entered divinity school at 48, after a career in business. He has found a job as the minister to men at the Rescue Mission in his hometown of Roanoke, Va.
Different paths
Hearn said in 1999 that he hoped many students would ultimately choose ministerial work.
But the conservative challenge – that liberal divinity schools don't make ministers – is still out there.
Leaders at the Wake Forest divinity school are careful to argue that "ministry" should be broadly defined.
"Better we form people who know how to have a certain presence," said Jill Crainshaw, an associate dean and the director of the school's vocational development program. "I've never intended us to have a toolbox mentality."
The curriculum aims to help people form what is called in church circles a "ministerial identity," she said. Students are required to complete internships in churches or other ministry settings as a way of figuring out their vocational paths.
The Southern Baptist Convention forbids the ordination of women, and even in other denominations, the traditional ministry remains male-dominated.
That has presented a special challenge for the divinity school as it tries to guide this year's graduates -the majority of them women – into jobs that will allow them to do their chosen work, Crainshaw said.
Three of the graduates will complete residencies in the Clinical Pastoral Education Program at Wake Forest University Baptist Medical Center.
Jennie Hemrick, 49, worked as an advocate for battered women before she entered divinity school. She is seeking Presbyterian ordination and hopes to work in ecumenical social ministry.
"My passion is to help faith community leaders understand that there are two people involved in domestic violence…. We can no longer say that it doesn't exist in our church homes," she said.
Leonard also sees no single career track for divinity-school graduates.
"We really have to prepare students for religious communities that are in what I call a state of permanent transition, and we are doing it inside a university that is trying to diversify itself. I find that challenging and a bit invigorating … certainly invigorating," he said.
Part of the challenge is knowing that many people in this new generation of ministers wear their denominational affiliations loosely, Leonard said. Yet the way to ordination is through Christian denominations.
"Denominations still become a necessary entry point, but they're not necessarily helpful in dealing with these broader cultural issues," he said.
Leonard has always made it clear that he wanted a diverse school, one that reflected the state of modern religion. The faculty includes a Benedictine monk, a black preaching professor and a feminist biblical scholar, along with well-known academics who are veterans of the struggle between conservatives and moderates within the Southern Baptist Convention.
There is, however, no self-described conservative Baptist. And diversity for the student body has been a challenge, as it is at many schools.
The graduating class is all white, and mostly female. Subsequent classes have brought more balance: Seven out of the school's 65 students in 2001-2002 were black. Men were also better represented.
"We're trying to recruit students," Leonard said. "We don't know what future profiles will look like, and we won't know until we get accreditation."
Because it is so new, the school has not been accredited by the Association of Theological Schools. The accreditation process begins this summer but will not be completed until 2005.
"I think we all get impatient with that," Leonard said. "It really is stages of growth."
Graduation from an accredited school is generally a prerequisite for ordination, but students can ask for exceptions in some denominations.
A work in progress
Even though many of these graduates will not have a traditional pulpit, they will be asked to preach from time to time and will be judged as ministers by what they say, said Brad Braxton, the divinity-school professor who teaches the art of preaching.
Those first graduates will begin to develop the school's reputation in the outside world.
"It begins to form an identity about what students come here to do," Crainshaw said.
Jennings said that historians will be watching closely to see how the school deals with issues of diversity, theology and the complex interplay between cultural issues and religious beliefs.
"In many ways, it's unprecedented – to have a major university found a seminary at the end of the 20th century," he said.
"It's going to be a very important test case for gauging the character of Christianity in the South in a very modern university at the turn of the century."
For his part, Leonard downplays such talk.
"I think theological education in general is a test case," he said. "We're a microcosm of what schools all over the country are facing. We have an advantage because we're new. We haven't gotten to turf issues yet."
Parker, who will be ordained at Wake Forest Baptist Church next Sunday, said that the school faces a struggle.
"If this is really going to be a new experiment, we've got to keep pushing back against the forces that want to make us into their image of what theological education should be," she said.
"Are we going to find a way to live in the tension?"
Published May 19, 2002 in the Winston-Salem Journal